Property Websites by BookingSuite
BookingSuite empowers accommodation partners to grow their businesses and brands through innovative cloud-based software and services. Because the future of hospitality reservations will happen online, BookingSuite is here to help today. Using Booking.com's distribution expertise, properties can now quickly and easily grow their direct online reservation channel through an effective property website.


A Better Way To Run Your Property's Direct Channel
BookingSuite gives you a transformational digital marketing system. Our property websites drive direct bookings. But that's not all. BookingSuite's software platform can be as simple—or sophisticated—as your property's needs. Take full control of your digital destiny. Trust our online conversion expertise so you can spend more time running your property.
Our services include:
Outstanding guest experience across desktop, tablet, and mobile devices.
Effective, built-in demand-generation support including SEO so you can attract more guests.
Integration with Booking.com as well as 3rd party software systems.
A content management system with all the features you need, built specifically for the hospitality sector.
Streamlined business management including integration with Booking.com content, photography, availability, rates and inventory.
Expert recommendations on practical improvement to your digital marketing strategy.
Future-proofed against technology changes over time.
Design updates informed by big data analysis. Relentless focus on more bookings and increased ROI.
Wonderful Partnership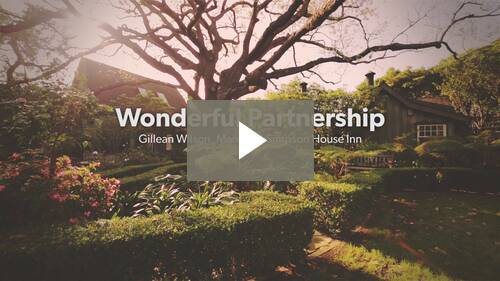 Want to know what it's like to have both a listing on Booking.com and a BookingSuite website? Gillean Wilson, Manager of the Simpson House Inn, discusses how her team has seen increased reservations across the board—both in the Booking.com marketplace and on their direct property website.
Commitment to Partners
Booking.com always puts the guest first. In order to do this, we help our lodging partners better manage their guest relationships.
Our guest-first philosophy dictates the company's relationship with lodging partners, as well as our practices concerning the Booking.com Marketplace and BookingSuite property-level websites. Ultimately, BookingSuite helps you reach guests and satisfy their lodging needs.
Privacy Promise
BookingSuite gives partners a win-win when it comes to data and privacy. We continuously use Booking.com's big data insights on property and guest behavior trends to improve BookingSuite.
We do not share your individual property data with the Booking.com organization except for billing purposes. Booking.com never sees your sensitive business and guest data. Read more about our privacy in the BookingSuite Privacy Policy.